São Paulo FC Jerseys
Gojersey provide São Paulo FC Jerseys for sale, custom soccer replica & authentic soccer jereys.
Buy authentic soccer jerseys with the names and numbers of your favorite players, from Jonathan Calleri, Jonas Toró to Gabriel Neves.
We customiaze soccer gear for men, women and kids. Personalize almost everything with your name, number, team logo, national flags, and more! No minium orders. Buy one of anything for yourself, or get your team added to our store for easy buying.
São Paulo FC Jersey Sale: Short Sleeve Jerseys | Authentic Jerseys | Retro Jerseys | Training Kits and so on.
Basic Information of São Paulo FC
Nickname(s):Tricolor Paulista (Paulista Tricolour) | O Clube da Fé (The Faith Team) | Soberano (Sovereign)

Founded: 25 January 1930; 92 years ago

Home grounds: Chácara da Floresta (1930–1959) | Estádio do Morumbi (1960–)

President: Julio Casares


Head coach:Rogério Ceni

Main trophies: Campeonato Paulista: 21| Brasileiro Série A: 6 | Copa do Brasil: 5 | Copa Libertadores: 3

Club records: Most games played: Rogério Ceni (575) | Top goalscorer: Luís Fabiano (56)
About São Paulo FC
São Paulo FC is a football club based in São Paulo, Brazil, whose official history began in 1930, it has the most prestigious history and the largest fan base in the country. But in the early days of its establishment, the development of São Paulo FC was not optimistic. At that time, the club was founded by 60 players, former officials, friends, and members of two old clubs from the region: CA Paulistano and AA das Palmeiras. It didn't take long for the club to dissolve in 1935 due to various internal disagreements and financial problems. Fortunately, in the 1940s, São Paulo FC began to win some star players from competing clubs, and thus gradually became successful.
The new players settled in quickly and did their best to lead the club to five Paulista titles by the end of the decade. During this time, the club earned the nickname "The Steamroller". In the 1950s, however, the rise of Santos led by Pelé quickly put São Paulo FC on the back burner.
Although São Paulo FC won two Brazilian titles in 1977 and 1986, it struggled to maintain its dominance for most of the 20th century. However, with the arrival of Telê Santana, things changed. Telê Santana ended up spending five seasons at the club in what is widely regarded as one of the most successful periods in São Paulo's history. Led by Telê and influential midfielder Raí, the club won a third Brazilian title in 1991. And the following season, they won their first Copa Libertadores title.
In 2005, the club defeated Atlético Paranaense in the final to win the third Copa Libertadores. With this victory, Sao Paulo became the first Brazilian club to win three Copa Libertadores.
In 2006, the controversial Muricy Ramalho took over as coach and immediately implemented his signature defensive style. Although some fans of the club did not like the change, it has proven to be beneficial for the team. From 2006 to 2009, Sao Paulo won three consecutive Brazilian league titles, and Ramalho became the first coach to achieve this feat with the same team.
Notable Players From Sao Paulo
Kaka - Current Real Madrid player and former World Player of the Year
Rogerio Ceni - Hero of Club World Cup triumph over Liverpool,as well as top goal scorer of all time amongst goalkeepers
Falcao - To this day considered one of the top midfielders to play the game,as well as a hero for club A.S. Roma
Müller - Scored over 150 goals for the club,was a vital part for Brasil's World Cup victory in 1994
Rai - Considered one of the club's greatest players,won practically every state,national,and international title possible with the club
Cafu - Legend at AC Milan as well as victor of two World Cups
Leonardo - Played for Brasil's '94 Cup winning side,current manager for AC Milan
Julio Baptista - Former Real Madrid and current A.S. Roma player,one of the top prospects from the club alongside Kaka at the turn of the millenium
Luis Fabiano - Considered one of the top strikers in the world and the Spanish League,was instrumental in Brasil's Confederations Cup victory over the U.S.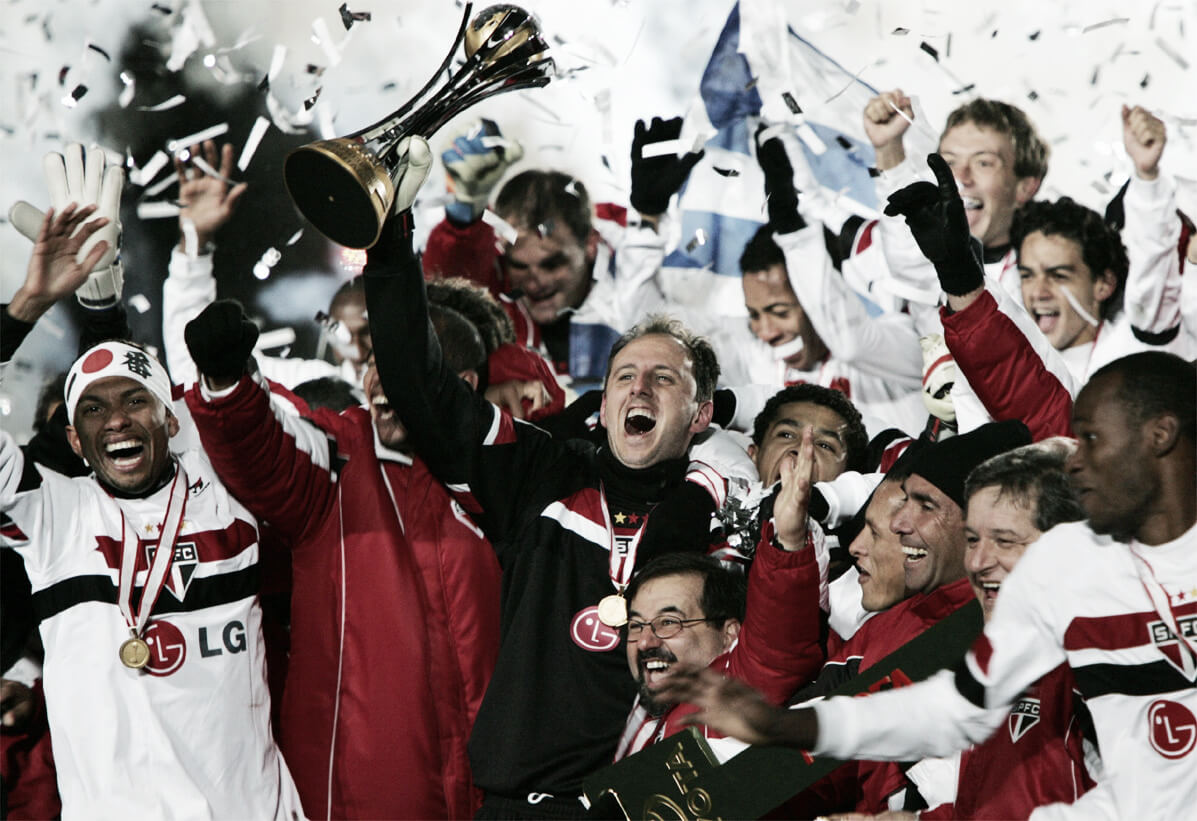 Estádio do Morumbi
São Paulo's stadium is officially named Estádio Cícero Pompeu de Toledo (Cicero Pompeu de Toledo Stadium) and commonly known by the nickname Estádio do Morumbi (Morumbi Stadium). It was inaugurated in 1960, with a maximum sitting capacity of 120,000 people, but now its maximum capacity is 72,039 seats. Its record attendance for a football match, set in 1977, is 146,082.
The club also owns two training grounds, one named Centro de Treinamento Frederico Antônio Germano Menzen (Frederico Antônio Germano Menzen Training Center), nicknamed Centro de Treinamento (CT) da Barra Funda (Barra Funda's Training Center), which is used mostly by the professional team. The other is the Centro de Formação de Atletas Presidente Laudo Natel (President Laudo Natel Athletes Formation Center), nicknamed Centro de Treinamento (CT) de Cotia (Cotia's Training Center), which is used by the youth teams.