Personal Life
♠ Birthday: January 11, 1996 (Capricorn)
♠ Born In: Essen, Germany
♠ Height: 6'0" (183 cm), 6'0" Males
♠ Full name: Leroy Aziz Sané
♠ Date of Birth: 11 January 1996 (age 26)
♠ Place of Birth: Essen, Germany
♠ Position: Winger
♠ Current Team:Bayern Munich
♠ His Parents: Leroy Aziz Sané was born on January 11, 1996, in Essen, Germany, to Souleyman Sané and Regina Weber. His father is a former Senegalese footballer who played as a striker. His mother is a former German individual rhythmic gymnast who won the all-around bronze medal at the 1984 "Olympics". It can be said that the sports atmosphere of their family is very strong.
♠ His Wife & Kids: As of 2018, Leroy has been dating American model, singer, and reality TV personality Candice Brook, and they gave birth to daughter Rio Stella in September 2018.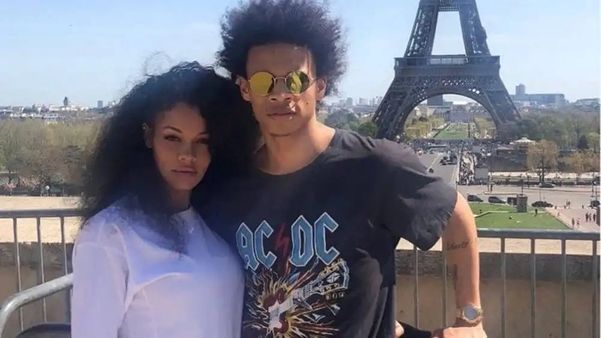 Experience of Leroy Aziz Sané
♠ Interestingly, Leroy was named in honor of his father's former head coach, Claude Le Roy. In 2001, Leroy joined the "SG Wattenscheid 09" youth team at the age of about 5 years. How awesome is he, only five years old. He played there until 2005 when he joined the youth academy "Schalke" ("Nachwuchsleistungszentrum"). After that, he started playing for Bayer Leverkusen in 2008 and returned to "Schalke 04" in 2011. He played for the Schalke 04 youth team until the beginning of 2014.
♠ On March 21, 2014, he started his senior club career with "Schalke 04", signing a 3-year professional contract with the club.
♠ He then signed a five-year contract with "Premier League" club "Manchester City" on 2 August 2016. On September 10 of the same year, he made his debut in the "Manchester" derby against "Manchester United". On December 18 of the same year, he scored his first goal for the club in the "Premier League" game against "Arsenal".
♠ Unlike most players, Leroy holds both German and French citizenship and is therefore eligible to play for either country. Choosing which country to play for was a difficult one, but in the end he chose to play for Germany.
♠ In 2014, he made his international debut for the German under-19 national team. On November 6, 2015, he was selected for the first time in the German national senior football team for a friendly match against France.
♠ His first goal for the German national team came in a 3-0 win against Russia on 16 November 2018.
Jersey Recommendation
Germany Home Jersey Authentic 2020
Check out this modern look, don't you want to own one?
As you can see, this Adidas Germany 2020 Home Shirt is all white with pinstripes covering the front and sleeves, which also have a subtle brushstroke effect.
And if you know the colors of the German flag, you will find that the black, red, and gold on the cuffs are exactly the colors of the German flag, and also have a brushstroke effect.
Plus, a simple black crew neck and side Adidas stripes complete Germany's Euro 2020 home kit.
Bayern Munich Home Jersey Authentic 2021/22
Like the previous kit, which introduces a modern look in red and white, the Adidas Bayern 2021-2022 kit combines the club's usual 'FCB True Red' with 'Craft Red'. The main part of the Bayern Munich 2021-2022 jersey is red, while "Craft Red" is used for the sleeves and the "V" shape on the chest, and the logo is white.
Bayern's 21-22 home shirt is the first and only one to feature a new five-star this season, awarded after the club won its 30th Bundesliga title.