Marseille Soccer Jerseys
Gojersey provide Marseille Soccer Jerseys for sale, custom soccer replica & authentic soccer jereys.
Buy authentic soccer jerseys with the names and numbers of your favorite players, from Florent Dimitri Payet, Arkadiusz Milik to Cengiz Ünder.
We customiaze soccer gear for men, women and kids. Personalize almost everything with your name, number, team logo, national flags, and more! No minium orders. Buy one of anything for yourself, or get your team added to our store for easy buying.
Marseille Soccer Jersey Sale: Short Sleeve Jerseys | Authentic Jerseys | Retro Jerseys | Training Kits and so on.
Basic Information of Marseille Soccer Jerseys
ஐ Full Name: Olympique de Marseille

ஐ Short Name: Marseille, OM

ஐ Founded: 31 August 1899; 122 years ago

ஐ Ground: Stade de l'Huveaune (1904-1937) | Stade Vélodrome (1937-)

ஐ Head Coach: Jorge Sampaoli

ஐ League: Ligue 1

ஐ Country: France

ஐ Main trophies: Ligue 1: 9 | Coupe de France: 10 | Champions League: 1 | UEFA Cup/Europa League: 3

ஐ Club records: Most games played: Steve Mandanda (439) | Top goalscorer: Mamadou Niang (59)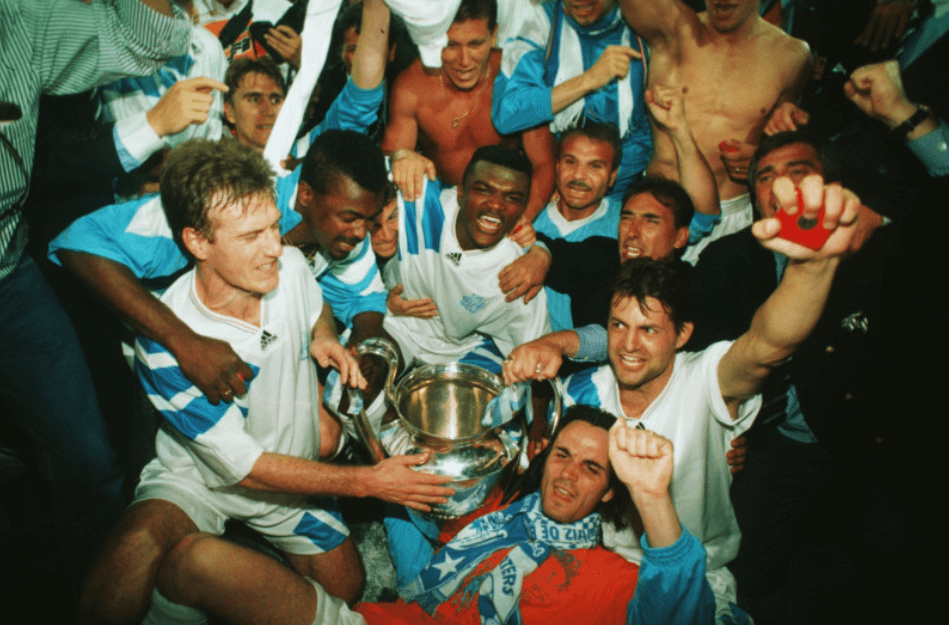 About Olympique de Marseille
Founded in 1899, Olympique de Marseille, also known as OM or simply Marseille, is a French professional football club based in Marseille. OM played in Ligue 1, winning 10 official league titles (9 in Ligue 1), 10 French Cups, and 3 Ligue 1 Cups. In 1993, coach Raymond Goethals led his team to a 1-0 win over AC Milan in the final of the UEFA Champions League, becoming the first and only French club to win the Champions League. In 2010, Marseille won its first Ligue 1 title in 18 years under former club captain Didier Deschamps.

If its roots are to follow, Olympique de Marseille was founded in 1892 by French sports official René Dufaure de Montmirail as an Omnisports club. However, in the first seven years after its establishment, the club received the title of the Olympia of Marseilles in honor of the anniversary of the founding of Marseille by the Greeks from Phocaea the 25th century ago. In the beginning, rugby union was the club's most important team sport, and it wasn't until 1902 that football was played at Olympique de Marseille. Olympique de Marseille is significantly better compared to other local football groups.

In 1908, the Olympique de Marseille won the Coastal Championship and was the local champion. In 1923, OM recruited two Parisians into the major leagues: Jean Boyer and Edouard Crut, who were very good players at the time. OM won the first French Cup in 1924, 25 years after the club's founding.
Honours Domestic competitions
ஐ Coupe de France
Winners (10): 1923–24, 1925–26, 1926–27, 1934–35, 1937–38, 1942–43, 1968–69, 1971–72, 1975–76, 1988–89

Runners-up(9): 1933–34, 1939–40, 1953–54, 1985–86, 1986–87, 1990–91, 2005–06, 2006–07, 2015–16
ஐ Coupe de la Ligue
ஐ Trophée des Champions
Winners (3): 1971, 2010, 2011

Runners-up(2): 1969, 1972
ஐ Coupe Charles Drago
ஐ French Championship / Ligue 1
Winners (10): 1928–29, 1936–37, 1947–48, 1970–71, 1971–72, 1988–89, 1989–90, 1990–91, 1991–92, 1992–93, 2009–10

Runners-up(12): 1919, 1937–38, 1938–39, 1969–70, 1974–75, 1986–87, 1993–94, 1998–99, 2006–07, 2008–09, 2010–11, 2012–13
ஐ Ligue 2
International competitions
ஐ European Cup/UEFA Champions League
Winners (1): 1992–93

Runners-up(1): 1990–91
ஐ UEFA Cup/UEFA Europa League
ஐ UEFA Intertoto Cup
Olympique de Marseille Jerseys Recommendation
This new Marseille 21-22 home shirt is inspired by the shirts worn during the 1989-89 season. At that time (1989-90 season), the Olympique de Marseille played in the French 1st division as defending champions. They won the league that year and reached the semi-finals of the European Cup (now the Champions League).
It has five blue stripes on the sleeves instead of the original two wide stripes. In the middle of the front of the jersey is a special "Comme un seul OM" badge, which has been part of the OM jersey since last year and the COVID-19 crisis - to show the team is with the fans. The Puma Olympique Marseille 2021-22 Home Shirt is also available in dark blue and navy blue, which is used for the small side elements on the sides.