Erling Braut Haaland is a Norwegian professional footballer who plays as a striker for Bundesliga club Borussia Dortmund and the Norwegian national team. A prolific shooter, Haaland is known for his speed, athleticism and finishing. He is considered one of the best strikers in football.
I believe everyone knows this information, and I believe everyone knows about Haaland's imminent transfer. At present, although this matter has not been finalized, it is a matter that has attracted the attention of many people.
Basic Information of Erling Haaland
❤ Full Name: Erling Braut Haaland
❤ Birthday: July 21, 2000 (Haaland age 21)
❤ Born In: Leeds, England

❤ Team: Dortmund

❤ Haaland Height: 1.94 m (6 ft 4 in)

❤ His father: Alf-Inge Haaland, played for Leeds United in the Premier League. In 2004, when he was three years old, he moved to Bryan, his parents' hometown in Norway.
❤ His Love Story: Erling Haaland seems to be only passionate about football, he is very focused on his career. Currently, he is not sharing his love story in particular, he also enjoys spending time with his family and loved ones.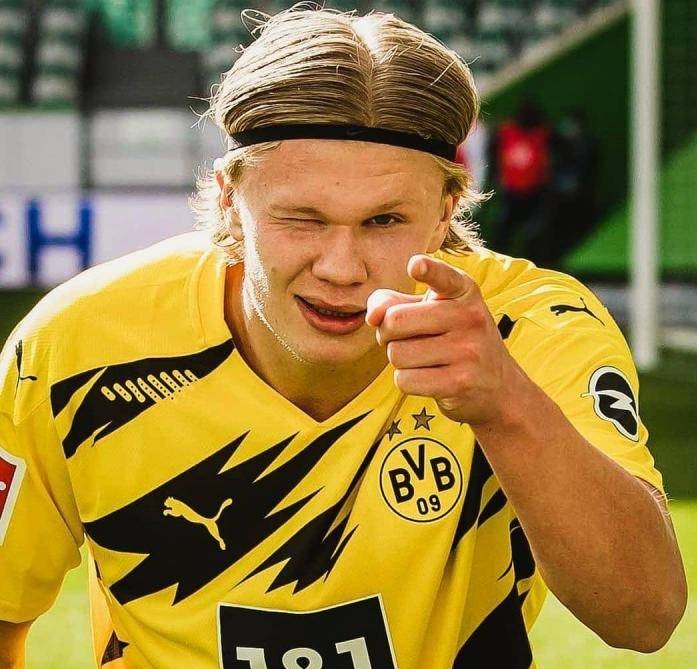 How good is Haaland?
Haaland was born in Leeds, England on 21 July 2000, when his father Alf-Inge Haaland was playing for Leeds United in the Premier League. Possibly he inherited his father's genes, he was gifted in sports from a young age, and in addition to playing football, Haaland played a variety of other sports as a child, including golf and track and field. You might not know it, but he reportedly set the world record for the standing long jump for his age group at the age of 5!
And his football career not only started very early but also developed rapidly. At 15, at an age when most other footballers are still playing for his or her youth team, Erling has already made his professional debut.
♣ How many goals has Erling Haaland scored?

♣ Haaland's transfer history & experience
Records show Haaland scored 28 goals despite only making 22 appearances before moving to Dortmund. And what's even more surprising is that the 19-year-old has already scored four hat-tricks.
Although many clubs wanted to sign this talented young footballer, in the end, Haaland decided to join Borussia. Borussia is said to have signed the 19-year-old from Salzburg for $49.5 million. Of course, Haaland did not disappoint either, with Dortmund winning the campaign 5-3 thanks to the 19-year-old's three goals.
With 82 goals in 86 appearances for Dortmund, the 21-year-old is arguably the most popular player in the world, with Real Madrid, Barcelona, Chelsea, Manchester City and Manchester United all closely linked to signing the Norwegian. That's why the news of his recent move is so compelling because he's so sparkly and everyone wants to know which club he'll choose.
Haaland Transfer--Haaland Transfer News
Manchester City - Seemingly always looking for a suitable successor to one of their greatest legends. Although so far, the successors to Joe Hart, Pablo Zabaleta, Vincent Kompany, and Fernandinho seem to have been confirmed. But a good player to succeed Sergio Aguero has yet to be found.
There have always been rumors that Manchester City could sign Erling Haaland, and most City fans hope that's true. After all, he's undoubtedly the best No. 9 in Europe, and he's still young and the possibilities are endless.
The Daily Mail's Mike Keegan previously reported that the club had reached "terms of agreement" with the players' representatives. In addition, Stuart Brennan of the Manchester Evening News also revealed that "Real Madrid sources" were "privately interviewed" and that they were second in the race to sign Erin Haaland next summer——behind Manchester City. While all signs seem to point to Haaland moving to Manchester City, Guardiola has refused to acknowledge any reports suggesting a deal has been reached.
While Manchester City is considered to be the frontrunner to sign Haaland, this is not good news for Manchester United, who is the most sought-after goalscorer in the world after all. However, despite the Manchester Evening News revealing that John Mertuve had identified Haaland as a long-term target for United in March last year, United's performance this season has all but dimmed their hopes of signing the player.
In fact, Haaland is unlikely to choose Manchester United. For the promising young Haaland, an environment conducive to winning trophies himself is crucial. United's decline in recent years has meant to some extent that they are no longer in a position to pursue such a transfer. United's interim boss, Ralph Rangnick, discussed the issue last week, explaining that United need to focus on finding their future stars.
Real Madrid has given up on the idea of signing Borussia Dortmund striker Erling Haaland this summer, according to journalist Ramon Alvarez Demon. They see Haaland as a player who doesn't have to be signed right away and appears to be prioritizing other targets, especially Mbappe, ahead of next season. In addition, the remaining money needs to be used for other positions that need to be strengthened, such as right-back and midfield.
Not only Real Madrid, but many clubs have withdrawn from the competition to sign Haaland because of the high cost. This is in favor of Manchester City completing the deal for the 21-year-old.
But can Haaland live up to so many expectations? In other words, can his body support him to the top?
Haaland Injury
Haaland, who turns 22 this summer, has been playing senior men's football for seven years since he was 15 and has played more than 200 games for club and country. So many years of training and competition have caused some small problems with his body, of course, this is inevitable for athletes.
Injuries didn't affect him much during his time at Mold or Red Bull Salzburg. But now, as seen in his absence at Dortmund, injuries have already affected him to a certain extent.
Haaland has missed 10 games with four injuries in 2020-21 and 16 games this season with three injuries.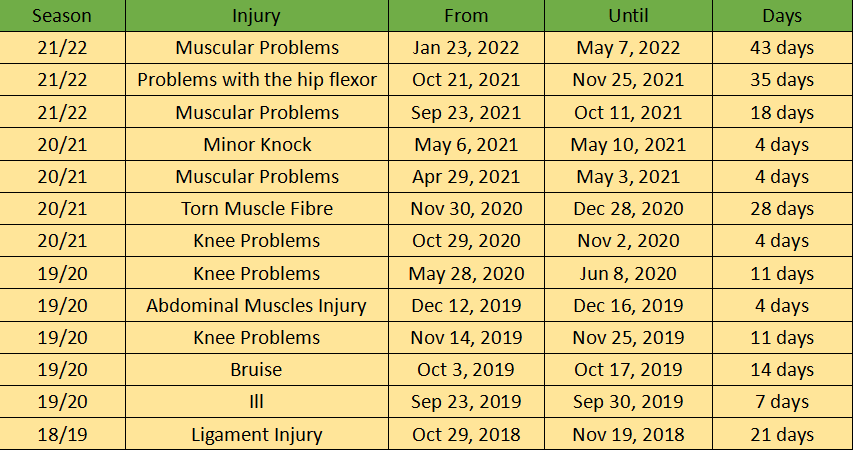 Judging from the current Haaland transfer news, Haaland is most likely to move to Manchester City this summer. In any case, we all hope that Haaland can take care of his body, shine in football, achieve his desired goals, and leave his name in football history. If you're a big fan of him, you can also buy his jerseys at a reasonable price on our site so you can cheer on your favorite stars in front of the TV/on the field wearing the jersey!